3D Secure 2.0 provides fraud protection and online payment security to all of its stakeholders. These participants involve issuing banks, acquiring banks, merchants, and cardholders - buyers. Implementation of 3D Secure ensures additional authentication, which reduces potential fraud, including friendly fraud, lost-and-stolen card fraud, and middleman fraud. Let's find out who is involved and how do they benefit from the 3D Secure solution.
Fear of fraud is one of the top reasons many Internet users prefer not to shop online, according to ResearchAndMarkets.com. Similar results are shown in Baymard's research: 17% of individuals said they worry about online card data security, which stops many of them to shop online. This particular buyers' pain point should encourage banks to implement technology that provides online payment security without disrupting user experience while shopping online. An additional layer of security provided by 3D Secure makes buyers more confident when deciding to purchase and pay by card online. Please keep reading and get more insights into the 3D Secure ecosystem and its participants.
3D Secure 2 Participants
To get a bird's-eye view of the 3D Secure 2 ecosystem ASEE prepared an infographic showcasing all of its participants and their respective roles.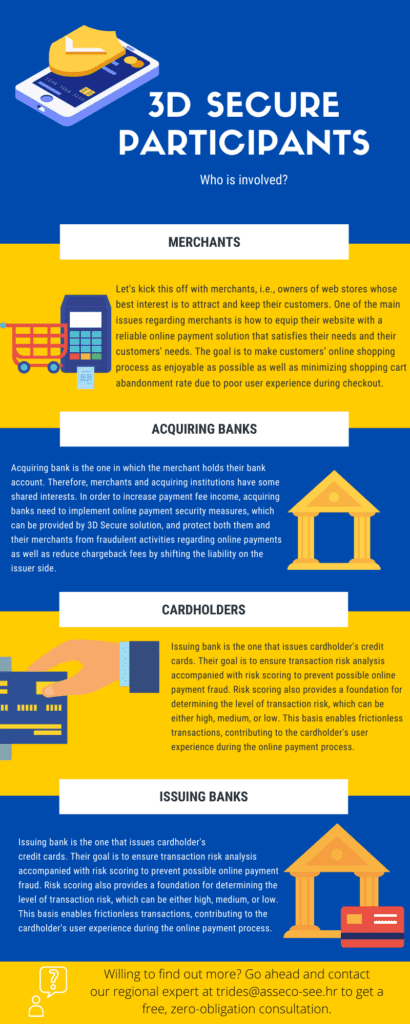 Now that you understand the roles in the 3D Secure process, we want to point out benefits for each of the stakeholders. Let's see how you profit from the 3D Secure solution.
3D Secure 2 Participant Benefits
By implementing 3D Secure solution, all parties benefit. So take a closer look and see how each 3D Secure 2 participant gets a piece of their cake.
Cardholders:
Increased confidence in online payment when purchasing on the web or by mobile applications
Easy to use – simple and intuitive, frictionless process and redefined user experience
Own control of payment risk parameters
Uniformed 2FA authentication and user experience across all digital channels
Merchants and Acquirers:
Increase of sales
Granted liability shift for fraud and disputed transactions
Fast and easy integration
Progressive security
High conversion rate
Issuers:
More value to existing products and offerings
A decrease in online card fraud and disputed transactions
Deep risk analysis of online merchants, clients, and transactions
Progressive security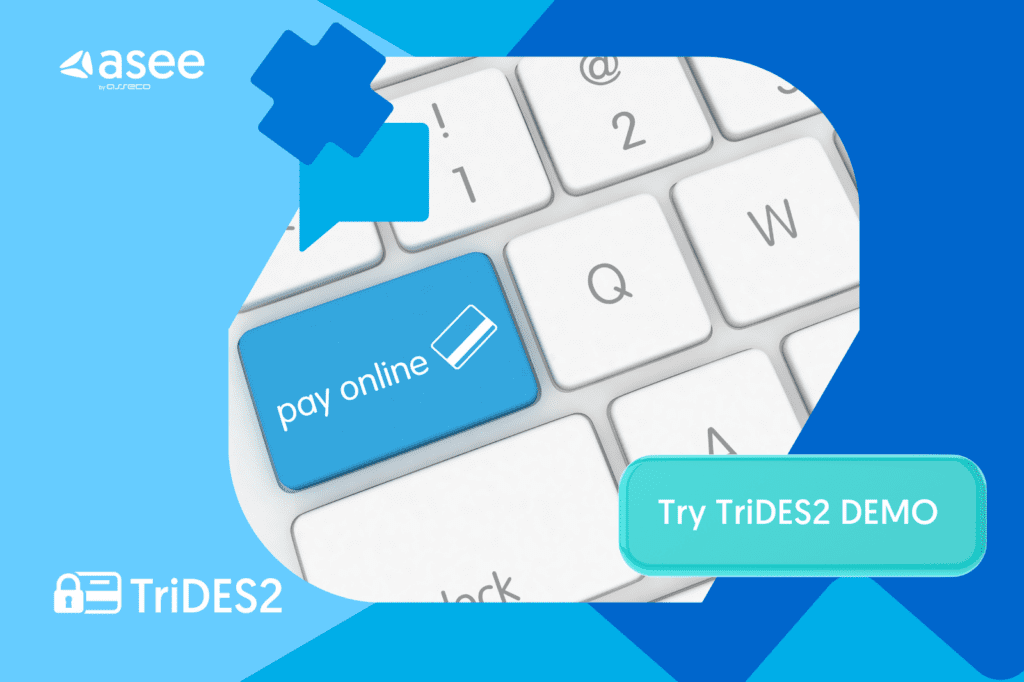 Willing to find out more? Go ahead and contact our regional expert to get a free, zero-obligation consultation or download the datasheet.