According to the Dubai Chamber of Commerce, the UAE eCommerce market value is expecting to hit $9.2 bn by 2026. This is an extended trend that started in 2019 when the pandemic accelerated the adoption of online shopping, resulting in $2.6 bn in sales revenue. In 2021 the UAE eCommerce sales reached $4.8 bn – an 84.6% increase over the two pandemic-ridden years.
Following the global trends, the adoption of mobile devices for online shopping made a presence in the UAE as well. Out of the total eCommerce sales revenue in 2021, $2.9 bn worth of transactions were made through a mobile device, 44% to be exact. Expectations for mobile commerce are high, with a CAGR of 15.6% between 2022 and 2026, finally reaching $4.6 bn in 2026.
To provide more context on what is causing such rapid growth, the following paragraphs discuss trends that are supporting the ongoing proliferation of eCommerce in the UAE and, consequently, MENA region.
5 trends supporting the proliferation of eCommerce in the UAE
1. 99% of the UAE population is online
The total population count for UAE in 2022 is 10.08 million, with 9.98 million being internet users. This means that 99% of the UAE's population is online – a great indicator of why eCommerce is on a constant growth streak. Moreover, UAE counts 9.80 million smartphone users, with 9.32 million being mobile internet users – another key trend responsible for the extended growth of mobile commerce (which is already taking up 44% of the total eCommerce sales revenue). Further opportunity lies in time spent on the internet –the population of UAE spends 8 hours and 36 minutes online. That means that half of their waking hours are spent on the internet, 4 hours and 35 minutes on mobile, and 4 hours on desktop and tablets. The same research reveals that UAE consumers prefer mobile devices (63.55%) over desktop computers (34.73%) and tablets (1.72%). This highlights the importance of optimizing web stores and designing online purchasing apps that offer a great shopping experience as well as uninterrupted and secure checkout on mobile.
2. Proliferation of digital wallets
Another sharp surge, fairly connected to the eCommerce landscape, is the adoption of digital wallets. An increase in the use of smartphones brings a natural progression to emerging digital payment options, primarily digital wallets when it comes to UAE. The latest research states that more than 50% of the UAE's population is already an active user of at least one digital wallet payment option. The same resource says that 58% of active digital wallet users use them to pay bills, while 55% buy groceries using the new digital payments technology.
3. Embracing the idea of a cashless society
Contrary to popular beliefs about MENA region and their commitment to cash, some countries within the region are making big claims about becoming cashless sooner than you'd think. The beforementioned trend concerning digital wallets is a good indicator of what's to come – a cashless society is no longer just an idea. When it comes to adoption in the MENA region, UAE stands out as an early adopter of the cashless society trend. According to Visa, 52% of UAE consumers, as opposed to 41% worldwide, already are or plan on being cashless by 2024. On an even more positive note, 99% see how they would benefit from a cashless society. To fuel such a transition, 71% of UAE SMEs are already cashless or plan on becoming cashless by 2024.
4. Immense purchasing potential
The Middle East has one of the highest per-capita spending globally. According to Forbes, all six of the GCC countries fall under the top 50 wealthiest countries in the world. UAE, a member of the Gulf Cooperation Council, is known for extreme online purchasing behavior compared to the rest of the world. With high purchasing power come luxury goods as well as the need for convenience of purchasing those goods. This is something that eCommerce does pretty well. A supporting claim by VISA proves how the UAE dominates the eCommerce luxury market.
"…the UAE continues to maintain a healthy lead in average transaction size compared to both emerging and mature e-commerce markets."
Even the pre-pandemic period set UAE far apart from the global average.
"…the transaction size in the UAE averages $144 in 2018-19, compared to $79 in mature markets and $26 in emerging markets."
5. Emphasis on security
Security concerns emerging from the rapid growth of eCommerce are addressed by additional efforts made by leading payment providers. This includes Mastercard and Visa, as well as global and local payment gateway providers. Online merchants need to ensure a safe online shopping environment for their customers, as well as secure their revenue in case of fraud. Various programs such as Verified by Visa provide both merchants and customers with an added layer of protection. It ranges from one-time passcodes to biometrics. Making sure that the purchase is made by the rightful cardholder is a priority when it comes to digital payments.
Secure payments and smooth checkout powered by 3DS Mobile SDK
The 3DS Mobile SDK aims to aid online merchants in their 3D Secure journey. The SDK enables a smooth user experience on mobile devices during mobile shopping. It addresses the inability of 3DS v1 to offer a unified user interface for mobile payments. The previous version of the protocol demanded handling of multiple browsers and redirects between applications to process a single payment.
The 3DS SDK native integration with iOS and Android mobile applications enables a seamless authentication flow embedded in your application. Your customers will be able to process payments without switching between browsers and maneuvering between mobile banking apps. This approach addresses both payment card fraud and the issue of cart abandonment caused by inadequate checkout user experience.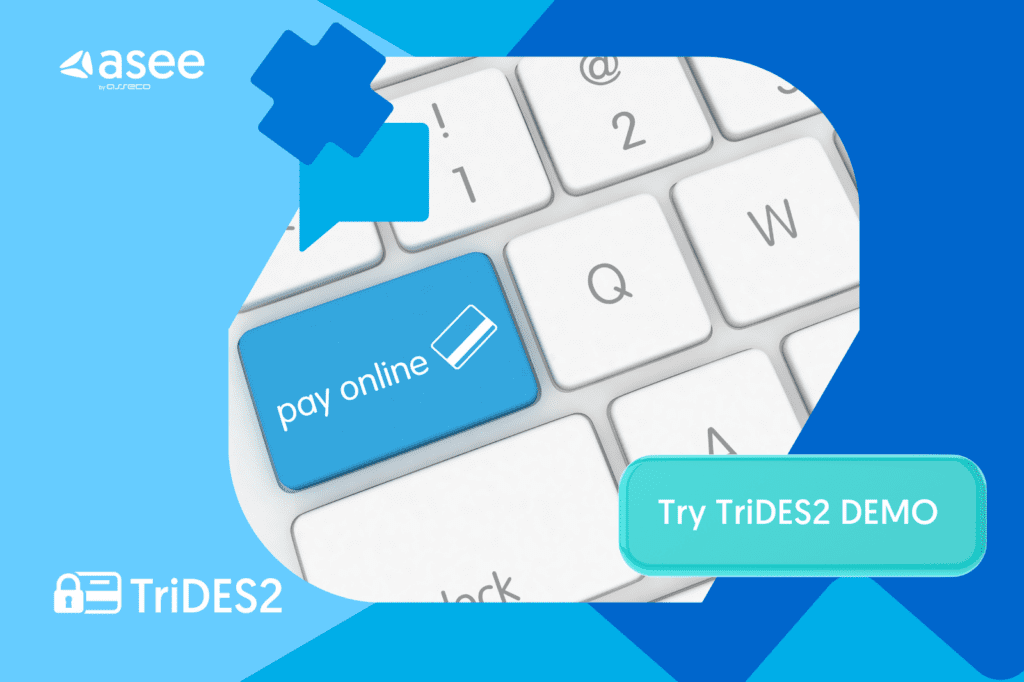 In case you're curious, feel free to contact us or download the datasheet - zero obligation. Our ASEE team will be happy to hear you out.