IDENTITY AND ACCESS MANAGEMENT BY ASEE
The growing number of applications in modern companies creates challenges for administrating single users in various databases. IT managers are struggling with maintaining the consistency of user identity between different applications. And as businesses evolve, the number of applications will continue to grow. Therefore, companies will feel increased pressure to find a solution that allows them to control and manage access to network resources effectively and effortlessly.
If identity access management processes are not controlled and monitored appropriately, this could result in regulatory non-compliance for the company. That could lead to a situation in which, during the audit process, responsible persons may not be able to prove that company data is not at risk of being misused.
In large organizations, applications are developed and implemented without common user repository information. Each application is usually deployed with its own provisioning and identity- management interfaces, and with its own security systems. Identity information and security policies are distributed across many applications, and repositories are controlled by many internal and external groups. The evolution of client/server applications and the internet has dramatically increased the number of identities that users must remember.
Having all this in mind, it is necessary to consolidate various data, user information, access rights, privacy policies, and user authentication in one system with smooth and seamless administration.
The solution is – IAM by ASEE
Identity and access management is a concept (a framework) that allows for the management of digital identities and access control. Using this technology, IT managers can manage and control user access on different systems and applications in a simple way, based on user roles and their respective rights. Roles can be defined based on responsibility, job title, ownership, and other information related to the organization. This way, it becomes easy to control access to sensitive data.
How does this work?
Identity management manages the identity lifecycle through a combination of processes, organizational structure and technologies. Access Management focuses primarily on authentication –determining who has access, and authorization – determining whether the respective user is authorized to have access. User authentication is covered with a multi-factor authentication solution. The user has to identify himself with the following parameters:
Something the user knows (PIN, password)
Something the user has (device, token)
Something the users is (fingerprint, face recognition etc.)
Multi-factor authentication as described above adds an additional layer of security to prevent various cyber-attacks like MitM or Phishing (https://sxs.asseco.com/).
In order to complete a request using IAM, the user must be authorized for it. The permissions for each user's cluster are written in policies. Depending on predefined permissions, IAM will "decide" whether the respective user's request will be allowed or denied.
Key components of the ASEE Solution
USER MANAGEMENT containing functions of user account provisioning/de-provisioning
USER REPOSITORY in which all user account identity information is stored
AUTHENTICATION bringing together all of the functions of authentication and session management
AUTHORIZATION for archive/repository of authorization attributes, rules or roles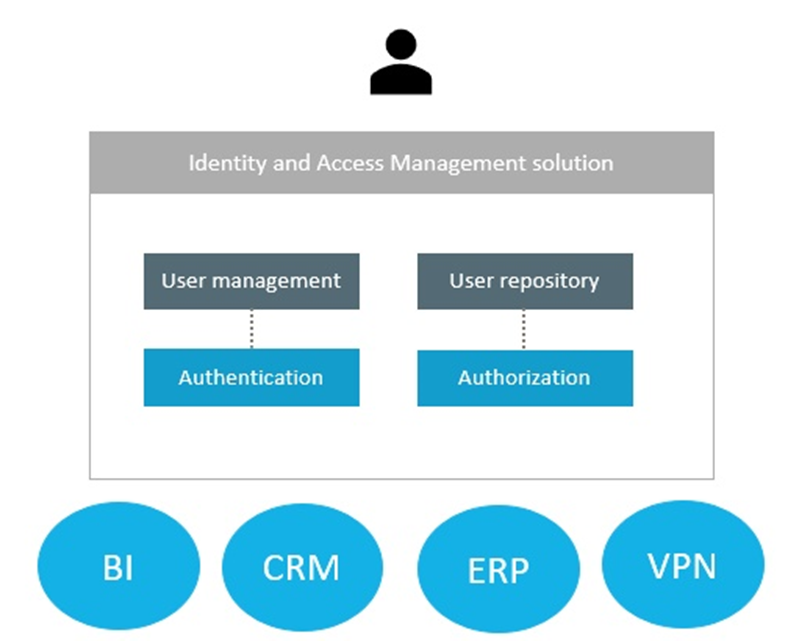 Business benefits
1. Saves time and money
IAM will improve the efficiency of IT resources because it offers a single place to manage user identity and access rights, which saves valuable time for IT managers that is currently spent on user management.
2. Higher security
The user can be authenticated and authorized from a single point. IAM controls a person's access to multiple applications in one place. Since the security for all applications is administered through a single point, IAM eliminates the concern of having different security standards implemented in different applications, which lowers the security level of a system in total.
3. Universal monitoring and auditing
Authentication monitoring and auditing is now done through only one system. Single point management decreases the possibility of errors versus management in several different places. Using IAM makes it easy to change, modify, update and process requests and approvals for various users.
4. Improved user experience
Nowadays, users are struggling to remember multiple user accounts and passwords just to log into business applications. With single sign-on (SSO) and unified user identity, users, customers and partners will be able to have access to different applications with only one account.
IAM is not just made for internal use, it can also be used for logging in users outside the organization, e.g., customers, partners, and suppliers, providing access to its network across mobile applications, on-premises apps and software-as-a-service apps without compromising security. This enables better collaboration, enhanced productivity, increased efficiency and reduced operating costs.
All in all, IAM will decrease costs, improve system management and the efficiency of application development by reducing costs across the entire organization. ASEE Identity and Access Management solution combines all the elements to enable seamless integration with all applications and unified user management.